A few words about us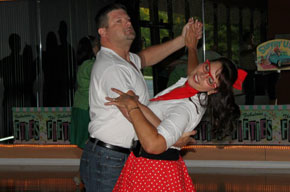 Let's Dance Ballroom Dance Studio
Let's Dance Ballroom Dance Studio in Maryville, TN offers dance lessons in American, International, Theater Arts, and Country Western styles. All of our teachers are full-time, certified, and professionally trained. With over 30 years experience, we offer private lessons, group classes, and friday night parties. We have a 6000 sq. ft. facility with a 2000 sq. ft. sprung dance floor.
If you are looking for a fun, new, and fresh activity, we are just what you need. Great for special occasions, weddings, date night, weight loss, competitions, dance vacations, social events, and weekend getaways.
What we do
Why we're here
Our main goal is to share our passion for ballroom dance with you
and to help you not only have fun and socialize but, also to teach you the techniques nessecassry to help you be confident on the dance floor. We provide a professional atmosphere, all while striving to maintain an environment that is safe and welcoming.
Contact
testimonials
" I was so nervous about dancing at my wedding but after my private dance lessons , I felt like a pro..."
We were very impressed with what we learned in such a short amount of time!